Aerial Yin & Relax (50hrs)
Aerial Relax, Aerial Yin, Functional Anatomy & Fascia Physiology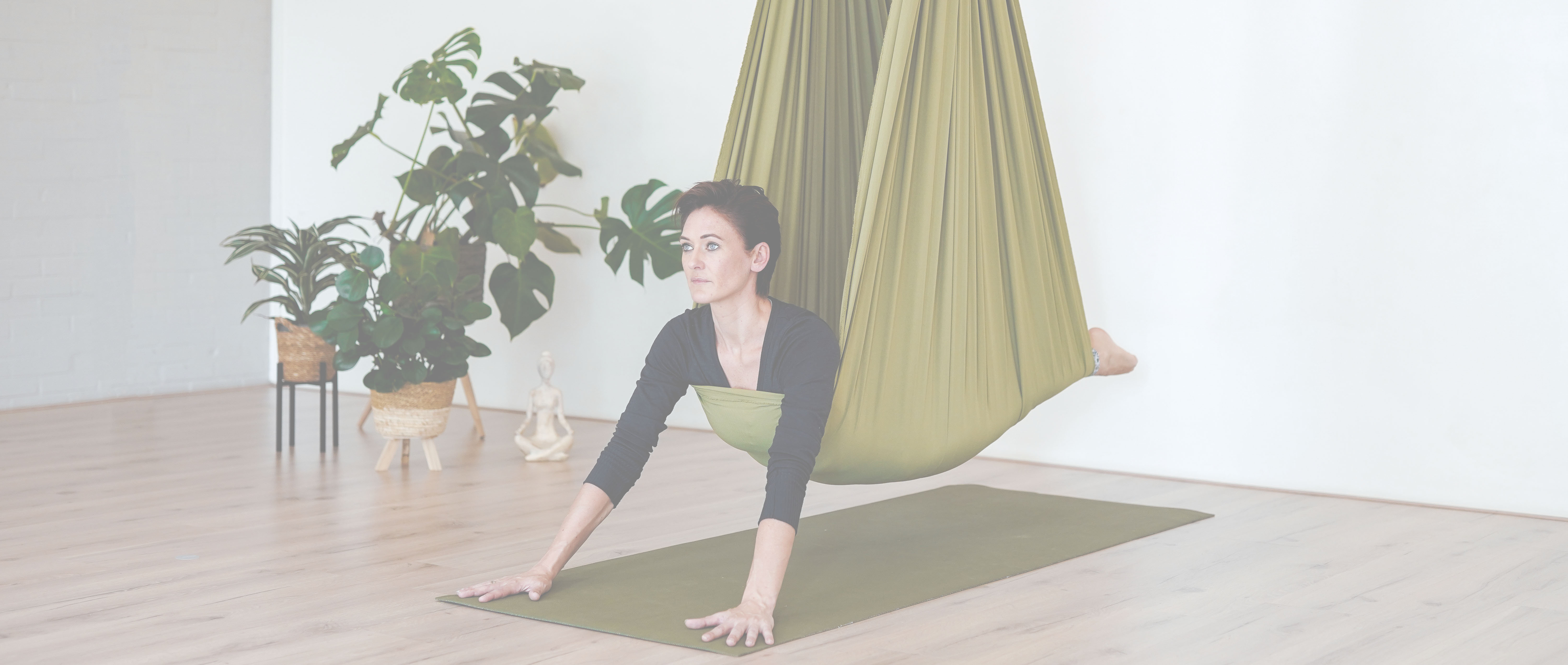 Aerial Yoga can appear quite acrobatic sometimes, hanging in a hammock well above the floor. But did you know there are very accessible, relaxing, and even therapeutic applications possible as well, with the Aerial Yoga hammock?
In this 50hr module, we will get ourselves familiar with the hammock, the technicalities of Aerial Yoga, and the safety in regards to the rigging and the material. Besides all that, we will discover and experience how the Aerial Yoga hammock can become the perfect partner on the road to relaxation. Learning to let go and even allow yourself to be completely carried by the hammock.
We will also explore all the ways we can use the hammock as our prop of support in the various yin yoga poses. For the hammock can be used for relaxation and support, but it can also create an extra way to stimulate the body in order to stimulate and massage the connective tissues. This way we will stimulate blood flow, circulation, and hydration in the soft tissues.
Aerial Yoga
Trust
Connection
Upsides
Downsides
Equipment
Safety
Aerial Relax
About Stress
Nervous System
Stress in the Body
Relaxation Response
How we Move
Poses
Aerial Yin
Yin Yoga
Yin & Yang
Stretch vs. Stress
Rebound
Effects
Poses
Functional Anatomy
Functional Yoga
Skeletal Segments
Myofascial Groups
Skeletal Variation
Skeletability
About Joints
Fascia Physiology
Fascia 101
Properties
Fascia Facts
Types of Fascia
Fascial Dysfunction
Fascia Training
Teaching Lab
Functionally
Safely
Creatively
Consideratively
Energetically
Practically
Besides the 2 weekends of studying together, you can also expect to receive some homework assignments which you will have to complete in your own time. In order to qualify for the Yoga Alliance certified certificate, you are required to attend all the hours of in-person training as well as complete all the homework assignments (within 1 month of completion of the in-person training). Experience with Aerial Yoga and/or Yin Yoga is not required.
Training days: 29-30-01 september/oktober & 13-14-15 oktober 2023
Training location: Sterrig Studio, Wolvega
Your investment: € 849
What to expect in return: 6 full days of studying, including lunch, snacks, coffee and thee, an extensive goodie bag, including a beautiful and very complete manual as reference (±250 pages).
This training is Yoga Alliance certified and the hours can be logged in as CE-hours (continued education).
If you have any questions regarding the content of this training, feel free to contact me directly via info@angelayoga.nl. For practical questions and registrations, please contact the host directly at info@sterrigopleidingen.nl