Aerial Yoga Active Flow (50hrs)
Aerial Yoga, Teaching Flow, Functional Anatomy & Breath Anatomy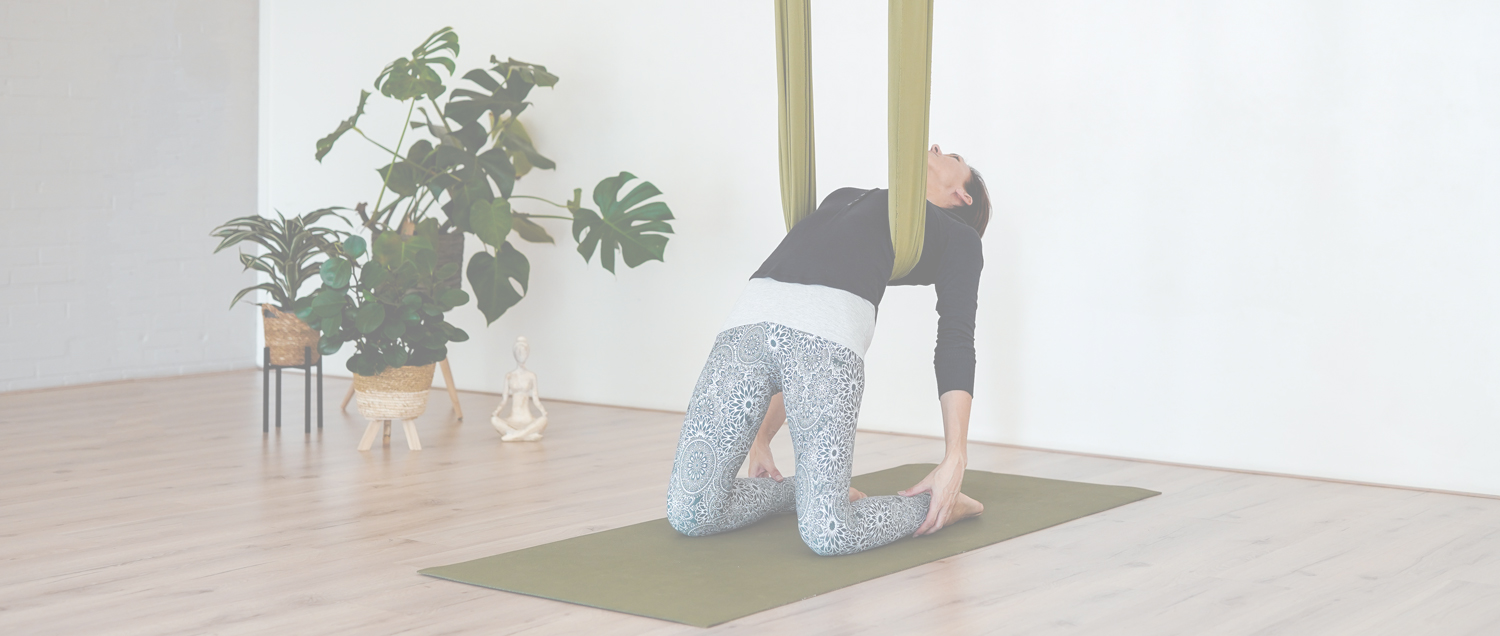 This modern and playful style of yoga really brings out your inner child. Aerial Yoga is a style of yoga in which we optimally make use of our own body in combination with gravitational forces. The hammock is suspended above the floor and around the height of the hips. In some poses the hammock will support the body, making certain poses easier or more accessible, as is with Sirsasana (headstand) or Vrksasana (tree pose). In other poses, the hammock tends the create an extra level of challenge, as in the flying variation of Bhujangasana (cobra pose).
The more you are able to trust your own body and the hammock, the more you can surrender to gravity, the more the hammock will give you in return. The hammock will massage you in certain postures, which stimulates circulation and releases toxins and tension from the tissues. The hammock will allow you to be suspended upside-down, which allows the muscles of the neck and the back to completely relax and give traction to the entire spine. The hammock will carry you, so you will be able to relax more.
Playfully, we work on the body, not just the larger muscles groups, but also and even more so the intrinsic, deeper muscle groups. Often without really noticing it while you practice, the body will get stronger, more mobile, and your coordination and fine motor skills will improve.
During the course of this teacher training module, we will become more familiar with the hammock, we will obtain knowledge of the technical aspects of the Aerial Yoga practice, and create awareness of the safety aspects and rigging. We will explore and experience how the Aerial Yoga hammock can become your favorite partner in your active yoga practice. Learning to let go, being completely carried by the fabric, and spending quite some time hanging upside-down. You will also receive the tools to be able to sequence your classes creatively and create your own aerial flows.  In deze trainingsmodule gaan we kennis maken met het doek, creëren we kennis van de technische kanten van Aerial Yoga en bewustwording van de veiligheid en het ophangsysteem. We gaan ontdekken en ervaren hoe het Aerial Yoga doek de perfecte partner kan zijn in jouw actieve yoga practice. Leren loslaten en je zelfs volledig laten dragen door het doek en ondersteboven hangen. Daarnaast ontvang je ook de tools om zelf creatief lesplannen te kunnen ontwerpen en je eigen flows te gaan creëren.
Aerial Yoga
Trust
Connection
Upsides
Downsides
Equipment
Safety
Aerial Active
Yoga Philosophy
Vital Energy of Prana
Going with the Flow
Flowing with Gravity
How we Move
Poses
Aerial Flow
Standing Flow
Shoulder wrap Flow
Wrist wrap Flow
Down Dog Flow
Floating Flow 1
Floating Flow 2
Functional Anatomy
Functional Yoga
Skeletal Segments
Myofascial Groups
Skeletal Variation
Skeletability
About Muscles
Breath Anatomy
Anatomy of Breathing
The Bones of the Breath
The Organs of the Breath
The Muscles of the Breath
Gravity and Breathing
Relaxing the Diaphragm
Teaching Flow
Sequencing
Energy Curve
Creating Flow
Mandala Flow
Reverse Flow
Peak Pose
Besides the 5 days of studying together, you can also expect to receive some homework assignments which you will have to complete in your own time. In order to qualify for the Yoga Alliance certified certificate, you are required to attend all the hours of in-person training as well as complete all the homework assignments (within 1 month of completion of the in-person training). Experience with (Aerial) Yoga is not required, but it could be a benefit.
Training days: To be determined
Training location: To be determined
Your investment: € 849
What to expect in return: 5 full days of in-person studying, an extensive goodie bag, as well as a beautiful and very complete manual as reference.
This training is Yoga Alliance certified and the hours can be logged in as CE-hours (continued education).
If you have any questions regarding this training, feel free to contact me directly via info@angelayoga.nl. We are also more than happy to assist you in regards to comfortable accommodation within walking distance of the studio as well as other queries you might have.